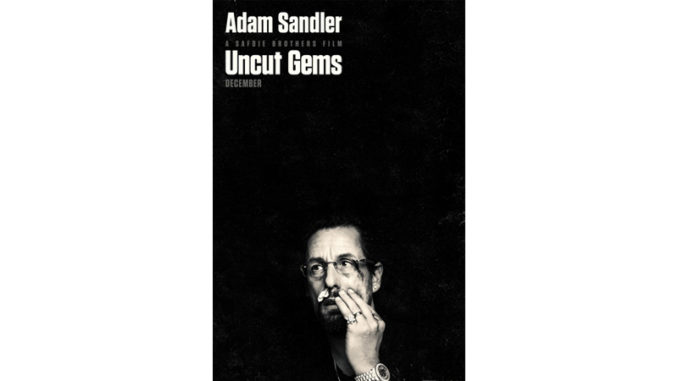 Following the critical and (eventual) commercial success of their 2017 cult hit GOOD TIME and the milder success of their 2015 drama Heaven Knows What, The Safdie Brothers had proven themselves to be two of the most profound voices in modern independent filmmaking. The overnight mainstream success of Uncut Gems should come as a pleasant surprise to those who've been on top of the indie scene for the past few years. After all, the Safdies have cemented themselves in a fluorescent, blaring, angry, yet endearingly human approach to storytelling, one that's proven to be heavily divisive in their previous work. 
Set in Manhattan's Diamond District in the Spring of 2012, Gems follows Sandler's Howard Ratner; the owner of a Jewelry Showroom on 47th street with a -crippling- gambling addiction. Howard finds himself in possession of a highly valuable black opal, straight from Ethiopia's Welo Mines. Following a visit from famed NBA superstar Kevin Garnett and Howie placing a sickening six way parlay bet on game 3 of the NBA Eastern Conference Semifinals, Uncut Gems quickly downspirals into grimey hellscape- a race against the reckless choices of Howie's past, and the chaos he's yet to wreak before the film's nerve-wracking conclusion.
I've seen Gems four times since its October 12th screening at the 57th New York Film Festival, and its grip only strengthens with each viewing. It's a picture so dedicated to the niche taste of its makers and the deliberate, idiosyncratic elements of the world it presents. Gems is unabashedly its own beast, even if you've seen the directors' previous work, you've still seen nothing like it; a modern parable, warning of the dangers of cheating an all-seeing cosmic determiner, punctuated by a flirty, explosive synth soundtrack. Gems is so embedded in the world we all lived in just eight short years ago; Kevin Garnett, The Weeknd, IOS 6, True Religion Streetwear, and… the Diamond Furby, the true star of the film! The Diamond Furby is my lockscreen, and it has become my personal goal to own one. 
No, this all isn't some elaborate apology for whatever awful Adam Sandler family comedy scarred you in your youth. Between Punch-Drunk Love and now Gems, Sandler has cemented himself as one of the great dramatic performers of our generation, despite whatever questionable projects he may take on to pay his kids' tuition. Sandler displays a perfect balance of exasperating neuroticism and fragile humanity that makes his flawed, dishonorable character the perfect channel for this story to be told through. It is truly one of the finest, most entertaining performances of the decade, and the Academy's inability to recognize it, or this film in any aspect for that matter, is beyond disappointing. 
Uncut Gems is a masterpiece in every sense of the word. It's a picture that so finely rides the line between comedy in the absurdity of its narrative antics and the sharp, loud New Yorker dynamic between its cast, and tragedy in the contemptible situations it launches its characters into, making them monsters of each others' own creation. If Gems has taught me anything, it's not to put out a six way parlay bet on awards voters acknowledging true talent when they see it.
Verdict: Truly a new modern classic. In ten years time, we'll look back on Uncut Gems as the dawn of something amazing in the filmmaking landscape.
★★★★★