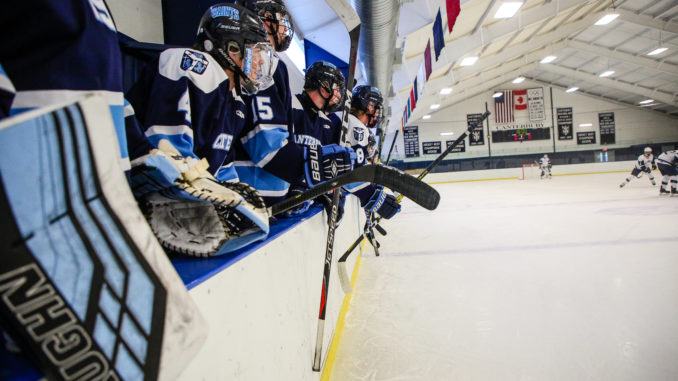 Entering January 27, the Boys Varsity Hockey team was coming off of a tough loss to Taft after a two-game win streak. Now, they had a huge opponent in Millbrook. The usual, "slow boiling" team got off to a hot start to lead by one. 
Andrew Mancini '20, who scored the first goal, said, "It really got the momentum going for us."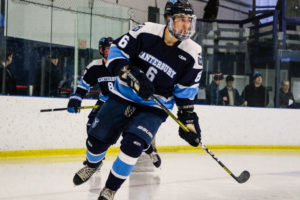 However, the team "broke down" towards the end. As Millbrook, even though they had a slow start, had come back and was up by the end of the third period. Millbrook had somehow come away with a 4-2 victory in spite of all the Saints had done. 
Alexander Murtsef, '20, aired a bit of frustration even though the Saints came out better to his opinion especially with a total of 24 shots on net against Millbrook. 
"We were a much faster team, a more physical team, and even stronger than Millbrook," Murtsef said, "They came out very sluggish and we unfortunately couldn't capitalize on how slow they were. We need to do that next time." 
However, others were doing everything they could to keep the team in it. Peter Papadopoulos, '21, the Saints goaltender, played with the fire you need from a goalie. 
Murtsef said, "[Papadopoulos] is definitely the hot hand right now. You can just tell his performance in games compared to last year. He did some JV games last year and now he's starting to compete for more time. He deserves it." 
Papadopoulos played as hard as he could even though he gave up a few. He finished the game stopping 26 of 30 shots for an 86% save percentage. 
This game is a close representation of the season as a whole. Not being able to close out or even stay consistent has been a theme as the team holds a 3-14-1 record on their season so far. Some feel as if change is needed and others feel that while it may not show on their record, they're successful in other ways. 
"Our effort is there. We always come out to compete," said Murtsef, "I feel like we need to capitalize more on the little things. We haven't been doing that lately and we need to get back on track to doing that."
According to Matthew "Cullen" Mulhern, '22, "We do a lot of the same drills. Which is good because you get a lot of the same reps but at the same time I feel we could use a bit more competition, more enjoyment and excitement."
Mancini said, "I can tell [the coaches] are really bought in. Being a captain we speak every week and they're really trying to make changes."
With a bunch of different opinions circling the team, one of the hardest things to do is keep that good mentality even while losing. The captains have done fantastic in improving the atmosphere around and for the team.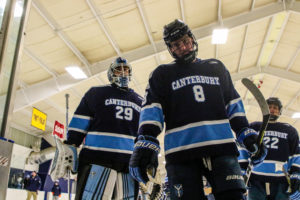 "The captains this year have done a great job of really getting everyone involved. There's really good team chemistry," said Mulhern, "Off the ice especially. Our bond as a team is greater as a whole."
Murtsef said, "Compared to last year, our captains have taken what they've seen last year and it wasn't a completely successful year but they took it and thought what can we do to make this environment better? I give a lot of credit to our captains."
The Boys team will continue to play hard regardless of any result and record they have. They are continuing to fight, not only for their team and school, but for each other. Even if they feel that change must happen in different ways. Their next game is away at Pomfret.
Final Score: Saints 2 – Millbrook 4
Player of the Game: Peter Papadopoulos