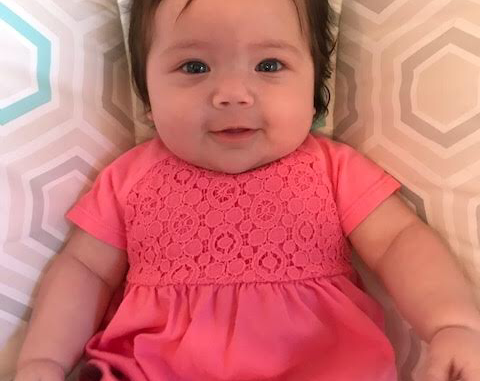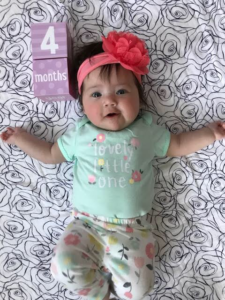 Hello, world! My name is Adelyn Mathewson, and I'm Canterbury's newest faculty kid. (But not for long. The Milanos are having a baby girl really soon.) I was born December 8th, so I turned four months old a little while ago.
I'm curious about this solid-looking "food" everyone is talking about, as I'm still drinking formula (even though I'm lactose-intolerant). I also love to sit up—like big kids do—but I can't quite do it by myself yet. But guess what? I can roll from my belly to my back! I bet I'll be able to roll back to my belly soon, too. Just . . . a little . . . further . . .
Let me tell you about my favorite things! I love, love, love watching the Red Sox on TV—which is a good thing, since it's my dad's favorite team. (I better not tell him I wouldn't know the difference if it were the Yankees I was watching.)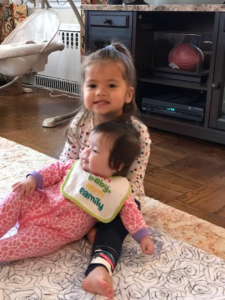 Also, I have fun investigating people's faces and putting my left hand in my mouth (don't judge, it's just so soothing!) Sleeping through the night is no problem. Really! I like to sleep! Just like all the big kids in the dorms! Speaking of big kids, my sister Hadley is the best! She's a great playmate.
One of my best memories is when I visited my grandparents in Florida. The pool was amazing! Even at home, I can play in the bath or anything water-related for hours. Also, I had a great time celebrating my first Hanukkah. Hmm, it's getting hard to remember that . . . I was only four days old.
Another exciting thing happened at the end of March: I started school! I go every day, just like Hadley. We do tons of cool activities.
All in all, life is pretty great right now. I'm looking forward to growing up with my incredible family and all the awesome kids at Canterbury!