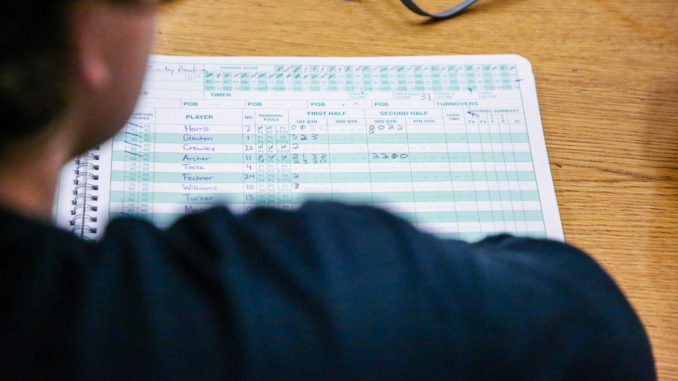 While I've been home social distancing, I have taken the opportunity to rewatch varsity basketball's three recent playoff games en route to the NEPSAC Class B Championship. Don't forget this team folks; what we witnessed this season was extraordinary and we won't watch a team like this again for quite a long time.  If I'm still around years from now, I hope to get an invite to their Canterbury Hall of Fame induction ceremony.
They say there's a right way and a wrong way to play the game, and I don't know if I even can explain what the right way is, but I recognize it when I see it.  All I know is that when I pushed the button to start or restart the game this season, I was watching the right way almost all the time. And I was watching the best basketball that I have seen in my 27 years here at Canterbury.
Stories like this don't happen without a little adversity along the way. This year's senior leaders were in the championship game just a year ago when the Saints fell to Hamden Hall.  At the beginning of this season, seven new players from different programs joined the team, and the new had to mesh with the old before the usual meat grinder schedule commenced. The process doesn't always happen smoothly as was evident during one especially grumpy December practice. During another early season scrimmage, Charlie Campbell, being Charlie, went to the floor for a loose ball, injured a finger, and was out until early January.  
As the Saints were getting to know one another and figuring out how to get along without Charlie Campbell, they were able to reel off three straight wins to start the season. However, in the third game at Kent, Marlon Short went down with a stress fracture of his foot and would miss a significant stretch of time.  The depth of the roster was about to be tested.
On December 14, the Saints travelled to Babson College to face defending AA champion Cushing Academy. Without Campbell and Short, players adjusted roles or took on new roles with a "next man up" approach and went back and forth with Cushing before losing 62-60 on a buzzer-beating long range shot.
When the Saints bussed their way to Pennsylvania for the Mercer Holiday Tournament hosted by Hill School, there was more in the air than just the Christmas spirit. After surviving their bus legs and edging Princeton Day School 60-58, the Saints rolled over Peddie by twenty points, setting up a rematch of last year's championship game with host Hill.  The Saints lost last year by two points, but this time around they prevailed 70-58 to win their first title of the season. Steering the ship all this time was senior captain Tray Alexander. He orchestrated the offense, but with Campbell and Short out of the lineup, he also carried the bulk of the leadership burden early in the season.
The Saints, with the return of Charlie Campbell, returned to the floor at Williston-Northampton on January 8 to take on perennial Class B power Brooks School.  After Canterbury defeated Brooks for the Class B title back in 2015, Brooks promptly went on to win four straight championships before falling in the semi finals last year. This is the Celtics-Lakers rivalry of Class B.  Anyway, it didn't go well and Brooks reminded us about their championship pedigree by winning 67-54.
The Saints wouldn't lose again. Charlie and Marlon returned to action, shook off the rust, and found their games. Canterbury would go undefeated in the ancient Tri-State League to win that title for the second year in a row.  By the way, that's a league that sent four teams to the Class A playoffs. Other highlights included a win over South Kent and a 42 point thrashing of AA power Williston-Northampton. It all added up to a nineteen game win streak and Canterbury was the last team standing this past Sunday and they were smiling.
How does a team win nineteen straight games? For all home games and two playoff games, I sat at my post at the cramped and crowded scorer's table and operated the scoreboard/clock.  My eyes followed every single path, bounce, deflection, pass, and shot of the ball by both teams, and this is what I noticed.
The team played defense.  Defense is hard work and it's unglamorous, but everyone on the team bought into it and it was there all season no matter what the scoreboard said.  I mean, really, how many teams do you see doing defensive drills during warmups?
The team played fast.  Tray Alexander is fast, so the team played fast all the time. I got tired just watching them. Even on defense, the team played fast. They didn't give up too many fast break points; they always got back.  I mean, really, how many teams practice with an eleven second shot clock?
The team was unflappable. And this was most evident during the playoffs.  Even on rare occasions when they were behind, they would play at their pace and they would play defense and they would play their system.  Sooner or later, someone would make a play or a big shot. All the early season adversity was handled and all the playoff ups and downs were managed. This was a team that was as mentally tough as any team I have seen.
A lot of different players did a lot of things well, but individuals had certain knacks.  They all played defense well, but Trevor McDonald had a knack for drawing offensive fouls.  They all rebounded well, but Sean Durugordon and Mike Graham had the knack for offensive rebounds and important put back points.  They all shot the ball well, but Mike Iuzzolino could really get hot and get hot at the right time.
The team moved the ball and moved without the ball.  I've seen this before at higher levels like college and the pros, but rarely at the high school level.  It was a season long clinic on the subject of unselfishness. It didn't matter to this group who made the shot as long as someone made the shot.
The leaders led.  It is tricky to get a handle on "intangibles", but all I know is that Tray, Charlie, Marlon, Gabe, and Mike were the best players when they needed to be, especially in the playoffs. Their tenacity, focus, poise, unselfishness, and awareness of the moment were evident from day one in November.
Of course, the maestro of this orchestra is Coach Baudinet.  He has an eye for talent, but he has an eye for character as well.  A season like this doesn't happen without a mutual trust between players and coach.  Perhaps, Brooks Head Coach John McVeigh said it best in a congratulatory and classy tweet after the championship game.  He referred to the Saints as "tough, smart kids who played together and earned and deserved the win and who are a reflection of their coach".  I heartily agree.