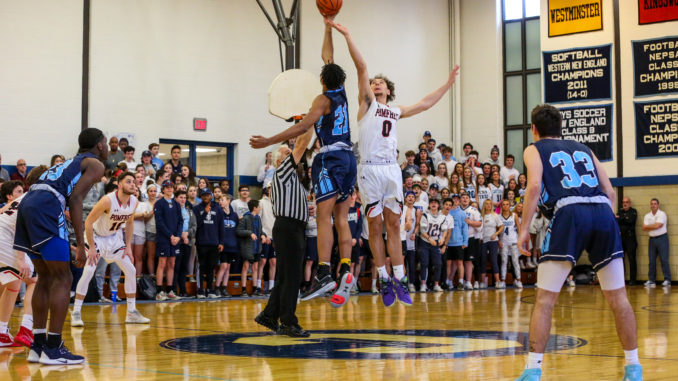 A game that could've been a decisive victory for the Canterbury Saints Boys Basketball team turned out to be a scarily close game on the 4th of March. The Saints came out strong and hot in the first half of the quarterfinal game to end it leading 33-21. However, the tides shifted as the second half started. 
Momentum had swung in the complete opposite way for the 2 seed Saints as the 7 seed Pomfret Griffins took advantage of it. Pomfret was able to lock down the Saints offense and apply pressure through the half court press. Pomfret also seemed to have everything clicking on the offense and finding the ways through the Saints defense. Through just about six minutes, Pomfret outscored the Saints 15-2 to tie the game up 46 each going into a Saints timeout. 
"They had a dynamic, unique style of play in pressing," said captain, Tray Alexander, '20, "I'm the main all handler. In order for us to win, I knew that the ball needed to be in my hands." 
Most of the calls as well were not going in the Saints' favor. Plenty of calls were questionable that rang boos out from the crowd. Mike "Izzy" Iuzzolino, '21, spoke on how he played with some of the calls not going in the team's favor.
Izzy said, "You just play smart. You know if you have four fouls you can't really set for a charge. Little stupid plays you don't need."
Some players were seeming to freeze up. The game kept getting closer with momentum going Pomfret's way and no one seemed to be on point with almost everyone missing the shots they needed to miss. However, Tray and Izzy were able to find a way to push their team over the top towards the end of the game. 
"When it comes time to a big game like that, you look back and you see all the work you put in throughout the whole entire year," said Izzy, "It affects people in different ways. Some people might be a little bit nervous, other people they're ready for it." 
Izzy continued to pile on as he was one of the consistent factors in this game. He pulled 14 points, a 41.6% shooting, and four rebounds. He also finished the game with two clutch 3-pointers to extend their lead.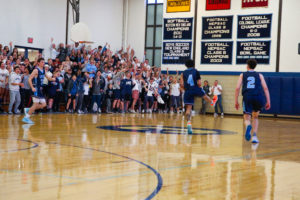 Tray showed up big as he came in clutch by hitting three 3-pointers with under 5 seconds left on the shot clock each. He only shot beyond the arc and at the free throw line and ended with 11 points, a 37.5% shooting, and two rebounds.
The team off of all this was able to pull ahead to secure themselves a win and a spot in the semi-finals of the NEPSAC Class B Tournament. The Saints are looking to place themselves back in the finals after a heartbreaker last year coming so close yet falling to Hamden Hall. 
"This game means more to me than anything else," said Izzy, "I've never been a part of a winning team before till I came here. Being able to go to a championship has been one of my lifelong dreams."
Tray's words had a bit more passion behind it. He said, "It's more of a revenge kind of thing. You don't want to end your high school career with a loss especially not in the semifinals or the championship. We just want to start a new legacy." 
He was one of the integral parts of the Saints team last year that lost in a close battle at the finals. He has remained focused and keeping his team focused one win at a time. 
The Saints are set to play against St. George's on Saturday the 7th of March at 3 o'clock at Taft School as a neutral site for the semifinal game.
Final Score: Saints 65 – Pomfret 55
Player of the Game: Mike Iuzzolino