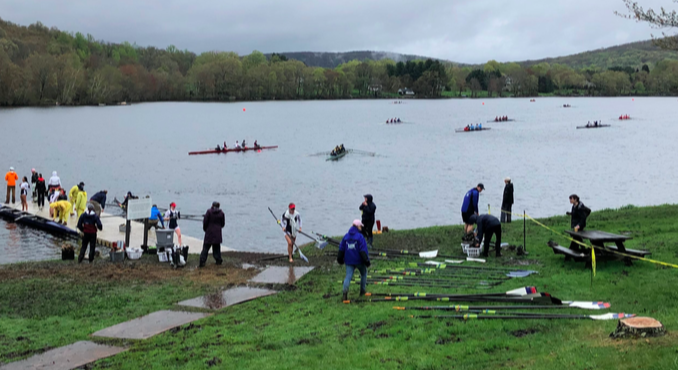 A windy, wet, and cold morning is what started the 60th Founder's Day. The day includes  the tables at the Canterbury tent stacked with continuous food, grills going, and endless cheering and cowbells
"Founder's Day is the highpoint of the season for many of us," said Eli Taylor, '19. "It's the biggest race we will race in because not everyone goes to New England's."
Each boat had to race to qualify for any finals. First and second place of any boat in their heat would qualify for Grand Finals. Any boat placing third or fourth would qualify for Petite Finals.
The girls' first boat launched first of the two V1 boats. Erin Sudbey, '20, one of the rowers, felt as if it was a "test of our mental strength".
Before the race she said, "We're very tired and exhausted so it's going to be hard to pull through that. We're going to try to be powerful, strong, and stay focused as one boat.
Giselle Bradshaw, '21, their coxswain, told us a bit of her job on her side of the boat.
"I'm here to encourage them to do their best," she said. "When someone's encouraging you, it distracts you from the same monotonous movement."
Their heat included Kent, Choate, Suffield, Pomfret, and Taft. The girls' boat finished fifth with a 6:38. However, the horrible conditions did not help them in any way.
"For the first 750 meters, we hit a lot of waves and there was a massive wake," said Erin. "It was incredibly hard to row in. Some of the worst conditions I've probably ever rowed in."
The boy's V1 didn't fare too well because of the conditions as well, racing in at fourth place with a 5:15 in a heat that included Belmont Hill, Northfield Mount Hermon, Berkshire, Lewis Mills, and Milton High. Schuyler St. Germain, '19, said the first 100 meters was "pretty choppy" which caused their technique to fall apart.
However, they did just qualify for the Petite Finals. "I think for Petites we have to go in knowing we got to do what we know how to do," said Ryan Greguski, '20.
They ended up finishing fourth again out of six in the Petite Final with a 5:13 behind Berkshire, Hopkins, and Gunnery.
"I actually don't think our results were far off from what we hoped for or expected," said Head Coach Ruderman. "We could have been in the lower half of the Grand Final. All in all, I am happy with our efforts, and extremely proud of all crews."
The rowers felt that, though challenging, the races still served a good purpose.
Coxswain to the first novice boat, David Salazar, '22, said, "It was a really good learning experience. The conditions weren't the best so we were able to learn."
Coach Ruderman continues to push both her younger athletes as well as the older, more experienced ones. Her goals are always to make each one of them "improve, no matter when and where their season ends".
But the season isn't over yet. The team still has one definite race at Berkshire on May 18. And the season doesn't have to end there.
"My other, more concrete, goal is for the Boys V1 to qualify for and place well at NEIRA, our league championship," said Coach Ruderman.