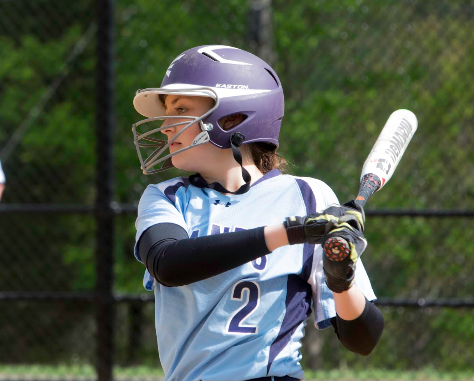 After a year of absence from the diamond, the Girls Varsity Softball team is back and is in full throttle. The team was without a pitcher last year, so there was no team. But this year Autumn Mish, '21, is in the pitching circle.
And, despite the gap year, the team crushed Hamden Hall in their first outing, 16 to 1.
"Pitching again felt so surreal," Autumn said, "I had played softball competitively for awhile, and although I took a short break, it felt awesome to get back in the groove."
Coach Omaña said, "It's great. You want someone who can throw strikes and Mish did that. I expect her consistency to get better as she gets stronger."
Autumn pitched three innings with only one hit and run allowed with six strikeouts.
In addition to having a strong pitcher and making her stronger, Coach Omaña has set goals for his other players.
"We're not focusing on wins and losses," Coach said, "We're talking about getting better and growth. Regardless of the talent level of the girls, they work hard. They're going to get better."
Rachael DeLong, '19, is back as the team captain and catcher after the hiatus year.
"The girls who play softball are so excited to be back this year," said Rachael. "They were a little disappointed last year when we didn't have a team."
Rachael was one of two returning players from the 2017 softball team. Despite the gap year, she plans on bringing her leadership and softball capabilities to the table by helping to build the team.
First baseman Kate Grissmer, '20, came back and is excited for this season and the one to come.
Kate said, "I think, for the rest of the season, we can expect to win some," she said. "We have many new girls,so we're not a top level team. But we're continuing to improve and get better everyday."
Kate hit two out of three at the plate while racking in two RBI's.
And she had high praise for new shortstop, Abby Mitchell, '22. Kate said she "showed experience" in her throws and at the plate.
Abby went three for three at bats with two RBI's.
The team is looking to stay in form when playing a strong Taft team on Saturday, April 13.
Final Score: Saints 16 – Hamden Hall 1
Player of the Game: Abby Mitchell