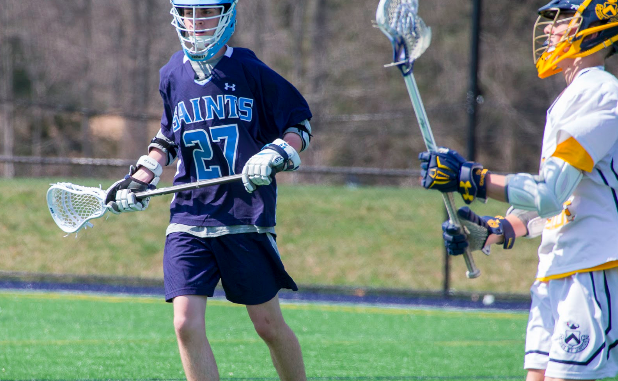 Team expectations are high for Boys Varsity Lacrosse this season.
           "I really don't expect anything less than a Division 2 championship," said Carter Finnen '19, shortly after the team posted a strong win over St. Luke's on March 28. "Out of my four years, this team is the best fit to make a run for it."
           While he is setting the bar high for his team, they're clearly off to a great start to make that run. Especially with the early start they had during spring break. The team went down to Florida to prepare for its season. The early practice seems to have paid off, allowing them to get stronger as a unit.
           Willem Steiner '19, said that the team "got more comfortable playing with each other and we were able to notice certain tendencies that players will have." The trip as a whole, he added, "helped build team chemistry on and off the field."
           Building chemistry is essential, especially with newcomers like post-graduate Korbin Pecora '19, who will be playing lacrosse for Yale next year.  However, he seems to have fit right into place.
           "It's been a blessing to have someone who you know will always be doing the right thing [on the field] and is as reliable as Korbin is," said Carter. "But more importantly, he's always a positive influence, and I think that's important when things may get rough."
            And Korbin didn't waste time in his Canterbury debut. He fired rocket after rocket and found the back of the net twice. He also helped out maintaining possession with picking up three ground balls. Expect him to always be on the stat sheet.
            Two goalies as well made their Saints debut. And the change of goalies didn't seem to phase the team.
Colin Kennedy '22, posted a 50% save percentage on six shots in the first half. Then Andrew Widlar '21, came in at halftime and put up an 80% save percentage on five shots.
"I wouldn't say the mentality changed all that much once [Andrew] came in," said Willem. "The team just got more focused on winning. It was more of the same mind set."
            A year ago, freshman Jack Rufa's patella tendon pulled off his shin bone. Fast forward to this year and Jack is back on the scene. The returning sophomore has gained plenty of praise from his older peers.
"It's a rare case to have a younger kid know so much about the game and to be able to execute like he does," said Carter.
            "I was a little more nervous today than before games last year," Jack said. "But it's still great to be back."
Nerves aside, Jack came back strong and put one in the goal column for himself. Keep him in your sights as another goal scorer.
          The team dominated the possession and was in control of the game most of the time. Performances like this will be expected throughout the year. They look to continue their strong start as they play Taft at home March 30.
         Final Score: Saints 7 – St. Luke's 4
         Player of the Game: Korbin Pecora