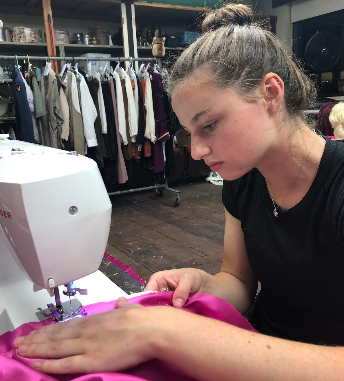 Erin Sudbey '20, a member of the theater's tech program, works on a costume for the play.
This fall's play is going to be a change of pace from the traditional Shakespeare production. Those currently involved in the theater program are very excited about the changes that are happening.
"I think that learning Shakespeare is very valuable to high school students but I also think that there is merit in change," said Jess Garcia '19, who has appeared in seven Canterbury plays.
Co-directors Mrs. Mathewson and Mrs. Armstrong explained the change.
"We admire the work the Dreekes have done over the years and want to keep Shakespeare in the fall rotation, but would like to explore other plays, too," said Mrs. Armstrong.
Under the new direction of Mrs. Armstrong and Mrs. Mathewson, "Peter and the Starcatcher" will be the fall theatrical production. "Peter and the Starcatcher" tells the origin story of Peter Pan, Captain Hook, and Tinkerbell.
One of the changes the new co-directors are bringing to the play is a new audition protocol. The first night of auditions consists of different theater games and improvisational games. The second night consists of reading the parts for the different characters in the play. Students said it was a lot of fun.
"It was less stressful, did not even feel like an audition, and allowed us to experience the style of theater we will be performing," said Eli Taylor '19.
However, it was not all fun and games for Mrs. Mathewson and Mrs. Armstrong.
"I learned more about the actors through their improv games than their line reading," said Mrs. Mathewson.
So far the collaboration between Mrs. Mathewson and Mrs. Armstrong has brought successful results. Both directors describe how their combined observations helped them make the casting choices.
"We each saw different things, and when we compared notes we discovered that each of us had been able to see things that the other one may have missed," said Mrs. Armstrong.
The play will be November 15th  and 16th in the newly refurbished Maguire Auditorium.