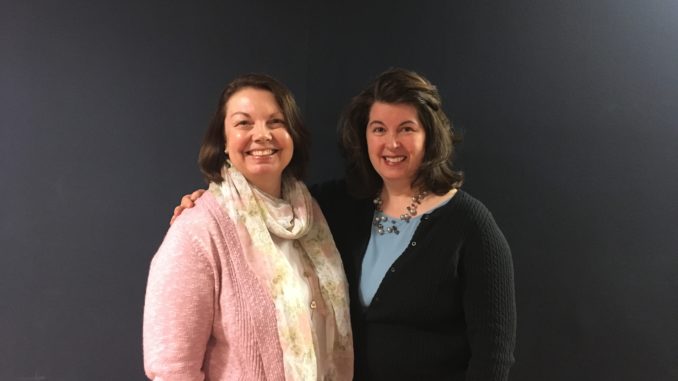 Canterbury students depend on Amazon – so we're in the mail room a lot – and we also need to get our money – so we're at the window of the mail room a lot. But many of us have not gotten to know the two ladies we depend on so much: Ms. Sharon Michalek and Ms. Mary Vannucci.
Ms. Sharon Michalek is a fan of music from the 80's – and she is the Debit Card Coordinator – in that order. Meanwhile, her ability to whip up an awesome dinner and put on a great party comes from her years catering at private clubs and homes along the CT shoreline and Westchester County.
"Hard work, paying attention to details and knowing what a client wants is what makes for a success," she said. Her most memorable events included the Kennedys, Senator Robert Dole, the musician Charlie Daniels – oh, and a couple of Presidents: both the Bushes and Clintons.
Outside of Canterbury, you can often find her watching her son play soccer or volunteering for her church in Washington.  
She's been with Canterbury since 2009, handing out money to the students and collecting it too. Taking care of their accounts keeps her busy all day.  Sometimes you might spot her at the school store and snack bar or serving snow cones at the end of year carnival. She enjoys being a part of Canterbury. The best advice she can give students is to smile, stay positive, and mindful.  
"Each day on my short ride into school I think of something to be thankful for and start my day that way. Try it. It will help you stay grounded," she said.
She also says – get out of your comfort zone and get involved!  
"Don't finish at Canterbury until you've done something you would normally never do, like join the play or chorus, be on the yearbook committee, attend the Emmaus trip or even better, go on a service trip! You'll be guaranteed a memorable time and a few good laughs."
Ms. Vannucci has been at Canterbury school for seven weeks. She replaced long-time employee and Canterbury alum Sheila Kuhn, who moved to Cape Cod in January to take care of her aging aunt.
Before working at Canterbury, Ms. Vannucci was the Administrative Aide to the Mayor of New Milford. Prior to working for the Town of New Milford, she worked as a Director/Coordinator of the Faith Formation at the two Catholic churches here in New Milford for 17 years.
There are many things Ms. Vannucci loves about Canterbury.  First is the sense of community here. Everyone has been very welcoming and kind. She also appreciates the way the faculty and staff are always available for the students. She believes that contributes to the positive atmosphere and attitudes of everyone.
Her day here at Canterbury begins at 9 a.m. She answers the phone, receives packages, sends an email to the recipient, delivers packages to people as they come to pick them up, helps students and staff mail packages as necessary, sorts and distributes the mail and assists with any projects as needed. Her advice to Canterbury students would be to be open to all that Canterbury has to offer.  
"There always seems to be something fun going on," she said. "It's a wonderful opportunity to try new things."