As one of the major theatre productions here at Canterbury, the Fall Shakespeare play is a big event at the school. The play is not only entertaining, but also educational, as the entire school reads the play in preparation for the play.
This year's play, "The Taming of the Shrew," did not disappoint. Audiences were impressed not only with the many talented performances, but also with how well the actors met the challenges of Shakespeare.
"The Taming of the Shrew" is about Katherine – an unwilling participant in an arranged marriage. Her husband Petruchio "tames" her through various psychological torture until she becomes a compliant and obedient bride. The subplot features a competition between the suitors of Katherine's more desirable sister, Bianca. As one of the greatest comedies of Shakespeare, the play never fails to elicit laughter from the audience, although some audiences can find its sexist attitude towards women outdated.
Sixth Former Bridget Murphy played the role of the tempestuous Kate; Fourth Former Brendan Omaña her plotting husband Petruchio; Sixth Former Courtney Dunham played Bianca; Fourth Former Greg McKenna played one of Bianca's suitors Lucentio; Fourth Former Alex Luo played Tranio, another suitor of Bianca; Fourth Former Connor Cherry played the servant Grumio; Third Former Ryan Greguski played the merchant; Third Former Nick Vial played Hortensio; Sixth Former Cam Napier played the father of Lucentio; Sixth Former Olivia Dibb played Biondella and the widow.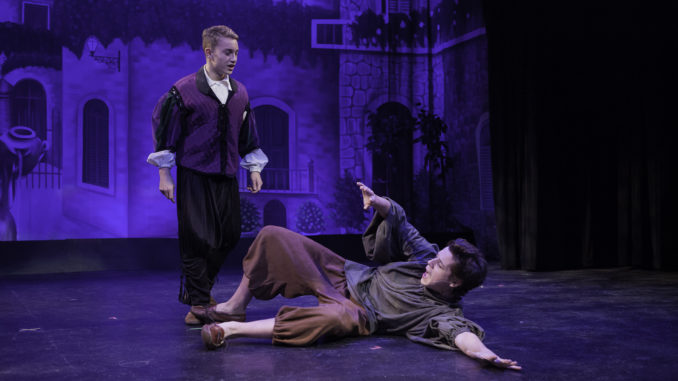 A production this professional would not have happened without a great cast. Courtney Dunham, a theater veteran who played Bianca, said, "This is by far the best cast I've been a part of.
Everyone wanted to be there and work hard – and everyone had talen
Awarding the "can of spam" to the most promising new actor is a tradition at Canterbury. This year's winner was Fourth Former Connor Cherry, who played Grumio.
"Stepping into the shoes of another character, seeing the whole world from that character's viewpoint, and then reacting to other characters, are all big challenges," said the play director Mrs. Dreeke. "Also, being able to understand what is being said in the dialog, memorizing those long speeches, and then conveying them convincingly, is not easy."
But Mrs. Dreeke makes all the difference, said cast member Jessica Garcia '19. "She helps us understand the meaning behind all the speeches, so that when we speak the lines, we know what we're saying."
For more pictures of this amazing production check out the flickr!