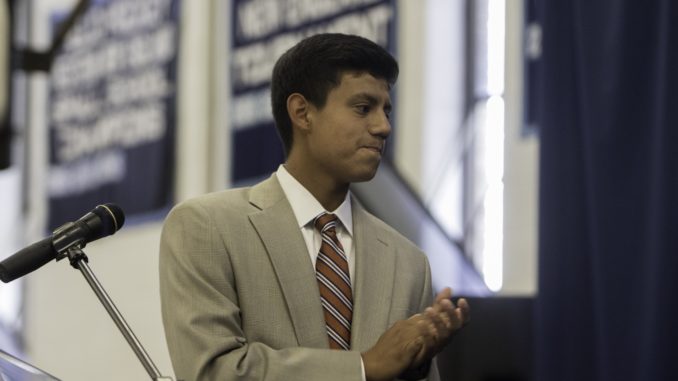 Whether it's on the soccer field or in front of the student body at school meeting, Tito exudes the qualities of not only a leader, but a friend. His humility and kindness shone through as he discussed his time at Canterbury and his plans beyond the school on the hill.
Tito came to Canterbury as a freshman, eager to learn and take advantage of all the available opportunities, but shy and scared by the new environment and the task of making new friends. Since his tentative start, Tito has built many great and cherishable memories.
One of them was this past fall, when the boy's varsity soccer team won a victory against the Kent School. Along with the victory, this past soccer season was one of the best yet for Tito, as he enjoyed his friends and supportive coaches, Mr. Ganow and Mr. Omana, who were willing to help him develop as a better player and a better person on and off the field.
Another fond experience occurred during his sophomore year, when boys' second boat won their race. But the most memorable experience for Tito was the Lourdes service trip to France. Helping others, especially those ill and less fortunate, made him better appreciate the blessings in his life and it had a poignant impact on his life.
"Take advantage of what Canterbury has to offer."
The same way Lourdes impacted Tito, he hopes to do the same at Canterbury as student body president and sacristan. With the help of his diligent Vice President, Sinead O'Donnell, he hopes to create more activities at Canterbury, bring more community service opportunities to the Canterbury community, and make the five values of Canterbury more prominent in daily student life.
Through these experiences, Tito has learned essential things that he hopes to carry with him beyond the school. When asked his advice for underclassmen, Tito emphasized "To take advantage of what Canterbury has to offer."  It's clear that Tito listened to his own advice, as evidenced through his tremendous contributions to the community in school activities and sports.
However excited Tito is to start a new chapter in his life, he will be sad to say goodbye to his home for the last four years. "I will miss the tight knit community and especially Kelly, Mr. Bice's dog."
His aspirations after Canterbury is to try new things and expand his horizons, wherever he may end up attending.
Along with the many friendships and memories he has made here, Tito will take with him one of the most important lessons he learned at Canterbury — time management, which according to him, "is one of the most essential skills to have in life, and gratefully, Canterbury has taught me that."
Wherever Tito ends up, he will forever cherish his time at Canterbury and use all he has learned here, whether as a friend, a teammate, or President, and apply it to his life beyond the school on the hill.